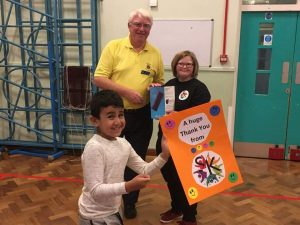 Lions are ordinary people who do extraordinary things to help others and support good causes. 
I am proud to be the President of our club for 2019/2020. My vision for the year is to grow our club so that we can continue to honour our motto 'We serve'
Our service is aimed at ways we can help local communities, charities and needy individuals, primarily in our immediate area or in ways further afield that can benefit our residents. We also contribute to national appeals and international humanitarian good causes through the Lions Club International Foundation. 
Through our fundraising events we regularly raise around £25,000 annually thanks to the generosity of local residents and businesses, and in the year to 30 June 2019 we were pleased to make charitable donations totalling over £21,300.
We try to help all those of whatever age. We helped primary school children by giving each Reception Class pupil in our five Primary Schools a book to encourage them to read.  We also take senior citizens on coach trips and provide a Christmas lunch for them.
We are always looking to increase awareness of the club. Many people got to see us as we served in a local shop to help the owners when their family needed help to cover an extended family illness. Although most of the service we do is less visible we can frequently be seen around in our distinctive yellow tops.
I hope my 2020 vision is perfect!
We are always looking for help at our events, particularly at our Rottingdean Fayre and Saltdean Gala. If you would like to help, or find out more about us or even think about joining the club, please get in touch at  info@rottingdeanandsaltdeanlions.org.uk or on 0345 8339 617.
Lion President Geoff Rhodes