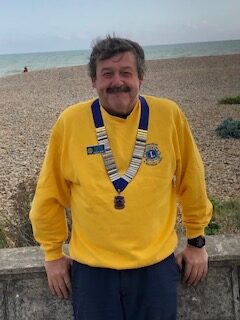 I was honoured and proud to be nominated for the role of Lion President of Rottingdean and Saltdean Lions Club. During my year, I feel my primary aims should be to sustain the good works of my predecessors and to build for the future.
An important part of our club is the great links we have with the community and individuals, groups and charities that need help. With this in mind, I would like to find new ways to seek more people that need our service.
Our summer fairs are very important to us as fundraisers while helping us to connect with local communities. As we come out of the current pandemic to whatever the new normal will be, I aim for us to continue to run our summer events. We will though, very much need your help.
With all our fundraisers, I am pleased to be able say that every penny raised is put to good causes.
As it is said, 'Where there's a need there's a Lion.' I look forward in my year, with my fellow Lions, to being there for you.  
Please contact us if you would like to know more about what we do. If you would like to help out at our fundraising events – you would be most welcome. Involvement with us, of course, could even lead to you becoming a Lion yourself and a fine day that would be too.
I would like to say that I am proud of all my fellow Lions with the work and service they provide. As always I remember our motto, 'We serve'.
Lion President Roger Bluff